Sam-I-Am and the Colorado Christian Writers Conference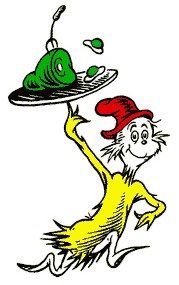 Dear Friends,
Some of my earliest writing was poetry. It wasn't good, but it rhymed. And working on the words helped me learn more about language, rhythm, and meter at a young age. Thanks to a supportive teacher, I was a published poet in the seventh grade and won a national writing award for my poetry that same year.
So when I wanted to blog about the Colorado Christian Writers Conference in a fresh way (read last year's "Top Ten Reasons NOT to Attend the CCWC") , I went back to my old standby: verse. This won't win any awards, but I hope it does convey at least a bit of the joy of the CCWC as well as the foolish excuses that keep people from attending.
Enjoy–and I pray you will "meet me on the mountain" in a few more weeks!
For His glory,
Marti
Sam-I-Am and the Colorado Christian Writers Conference (with apologies to Dr. Seuss) 
 ©2015, Marti Pieper
That Sam-I-am
He wants to go
To a writers' conference
Don't you know?
Which should he choose?
What will it be?
He's headed off to
CCWC!
In Colorado,
So you say?
13th-16th
Days of May?
Sam-I-am, I
Can't come with you
I've got too many
Things to do.
Oh sure,
I like to write and all
But share my words?
That's not my call.
Now, Sam-I-am
Don't mess with me
I will not come
Just let me be.
I'm sure the setting's
Gorgeous, yes.
I'm sure the teaching's
Bound to bless.
And agents, editors,
Authors, too
Are all prepared
To meet with you.
But Sam-I-am
I don't know how
I can afford it.
Tell me, now.
Marlene says God
Will make a way?
Since she's in charge,
I'll have to pray.
And if I go
I'll learn so much
And use my words
The world to touch?
Oh, Sam-I-am
I just don't know
How I could come to
Colorado.
But yes, I long
To see God do
Great things in me,
Great things in you.
I want to write
What others need.
I want to offer
Truth they'll read.
So Sam-I-am,
I'll go with you,
To Estes Park
The conference, too.
We'll listen, learn
We'll pray and praise,
We'll see God's glory,
Learn His ways.
But one more question,
Sam-I-am.
Does the dining hall serve
Green eggs and ham?