WRITE: Top Ten Reasons NOT to Attend the Colorado Christian Writers Conference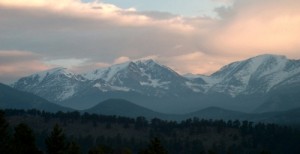 Anyone who reads my blog or posts with any degree of regularity knows I'm a huge fan of writers conferences. I've had the privilege of teaching and representing Sisterhood Magazine at several through the years.
But today, I decided to take a different tack. I've seen plenty of posts, including my own, touting the advantages of one conference or another. So here are my top ten reasons not to attend the next conference where I'll teach, the Colorado Christian Writers Conference May 14-17, 2014.
10. Extras: The Saturday Night hayride, bookstore packed with a writer's dream library, and Early Bird (Wednesday, May 14) Workshops are all unneeded add-ons. Why trouble yourself with bonuses that add value to your conference investment?
9. Delicious, Varied Menu: The YMCA of the Rockies offers more variety (including vegetarian and gluten-free options) than any conference where I teach. Who wants to make choices? When it comes to meals, bland and boring is best.
8. Critique Me Not: The CCWC offers the opportunity for paid critiques with industry professionals. But why? "Critique" sounds like "criticism," and you sure don't want anyone evaluating your baby book or article. Let Mom do your critiquing. She likes everything!
7. Scholarships: Privacy, Please. Conferences cost. But you wouldn't want anyone to know about a financial need, would you? And why take advantage of someone else's generosity by applying for a scholarship? Besides, your ship will come in someday, and you can hire someone to push your wheelchair around the conference.
6. Continuing Sessions and Clinics: Don't  get serious about your work when when you can just dabble instead. The continuing sessions and clinics push you to examine and evaluate your work under an expert's personal tutelage. Why bother?
5. Workshops: Why? The CCWC offers more variety than ever, with workshops on topics ranging from Author Promo to Deep POV (point of view) to How to Book Speaking Engagements. But why improve your craft or writing business when the status quo feels so comfortable?
4. Teens Write (mini-conference for teens): Why challenge young people to write for God's glory? They're better off with their hands on their game controllers or taking selfies for social media. Who cares about the future of the publishing industry?
3. Agents and Editors. Mehhh. Every conference has them, but the CCWC has an abundance, offering four one-on-one appointments with faculty of your choice (five for the first 75 registrants). But why put your work in front of people who could publish it when hiding behind your computer is easier and safer?
2. Nature. Who Needs It? Anyone with a passion for the beauty of God's creation will want to avoid the CCWC. We can only take so much blue sky anyway, right? And breathtaking views of the Rockies: really? Wouldn't you rather watch them on TV?
1. Justice, Schmustice: The CCWC and its sister conference in Philadelphia have a strong, spiritual focus on "writing his answer" to touch societal needs. Let's keep our Christianity in a box. Why take it outside the church?
 Believe it or not, I've heard or witnessed most (if not all) of these reasons not to attend in my communication with writers through the years. Read through them again and see if you sense the conviction of the Holy Spirit. Is He calling you to use your words to make a difference? Is He calling you to the beauty of His creation and the power of professional expertise applied to your words? Is He calling you to write His answer? If so, I hope to see you at the CCWC! 
If you've attended this conference or have plans to do so, perhaps you can do a better job than I did of encouraging others to attend. Feel free to share your comments below.