WRITE: Words with Friends: Becky Harling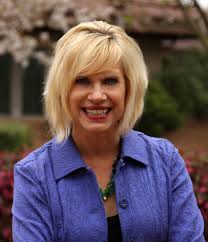 Because I work as an author, collaborative writer, and editor, I have many friends in the publishing industry. That's why I no longer publish reviews on bookseller sites. Here on my own blog, however, I can review the books I choose and then share my personal connection with their authors. That's how my "Words with Friends" blog feature began.
Today, I'm interviewing author, pastor's wife, and speaker Becky Harling, author of The 30-Day Praise Challenge. I know Becky because we've communicated often via email by virtue of our membership in two professional organizations: AWSA (Advanced Writers and Speakers Association) and CAN (Christian Authors Network). The two of us have never met in person, but we hope to connect at an AWSA Convention sometime soon!  Let's get going with today's interview.
Becky, I know that your own journey into praise began in an unusual way. Can you tell us about it?
This greatest adventure of my life began thirteen years ago, hours after I was diagnosed with breast cancer.
Scared and stressed at the thought of a double mastectomy; worried about my kids and whether I would be alive to finish raising them; anxious and paralyzed over the thought of a year full of treatments; I decided to fast, pray, and beg God for healing. But when I told my mentor about my plan, she had another idea. She challenged me to, "Try spending 20 minutes praising God for five days." At the time I thought, "What a bizarre idea! I have just been diagnosed with cancer. The last thing I feel like doing is praising God. Shouldn't I fast, pray and beg God for healing? Wouldn't it be hypocritical to praise God when I don't feel thankful?"
I'm sure many of us understand how hard it can be to praise God when the circumstances seem less than praiseworthy. Did you accept your friend's challenge?
After wrestling with my doubts, I decided to give praise a shot. After all, what did I have to lose? The first day, I got down on my knees early in the morning and turned on praise music. I remember praying, "God, I'm here to praise you for 20 minutes. Don't know how I'm gonna do that, but if you'll help me I'll try."
The Holy Spirit was more than willing to help. He began to prompt my thinking with reasons to praise God. I praised God the Father for being almighty and faithful. I praised Jesus Christ for loving me and being my victor.
After my first day of praise, I decided to continue. Some mornings, I praised my way through the alphabet, worshipping God for all His different characteristics. Some mornings, I let the worship music prompt my praise. Some mornings, I went for a walk and praised God for the beauty of creation.
That's amazing. And I understand that the more you practiced praise, the more its power grew in your life.
Yes. What I experienced in those five days was so radical that I decided to continue.  Over the last thirteen years since I began, I discovered that though praising God didn't change my life circumstances, it changed me. As I continued the practice of private praise, God's presence became more tangible, and I began to change into a more positive, confident, and secure woman. The transformation I have experienced is undeniable. Praise changed me from being fearful, frantic, and insecure to being a calm woman filled with passion and purpose.
I love that! What else have you learned about praising God?
Here's the truth about praise: praising God is not a glib hallelujah when life is going well. Praising God is an intentional declaration that affirms our trust in God, even when life is falling apart. As a result of our intentional praise, our souls are transformed. I now believe that praising God and exalting Him—no matter what our circumstances—is pivotal to our spiritual transformation.
Do you have anything else to share with our readers?
I invite you to take the challenge! Try praising God. When you become intentional about praise, even in the midst of chaos, your life will be transformed.
Becky's Bio: When Becky isn't having blonde-moments, she is busy being wife to pastor Steve Harling, flying somewhere to share the message of freedom for women, recovering from raising her four children, or diving into the joy of being with four grandchildren. She loves coffee and is convinced that if you drink four to five cups per day, you won't struggle with memory loss in old age. To book Becky for speaking, you can reach her at beckyharling.com.
Have you had a special experience with praise? Have you intentionally praised Him during a difficult season? Remember to leave a comment or question below or on Tuesday's blog (my review of The 30-Day Praise Challenge) by this Saturday night to enter the drawing to win your own copy of this delightful book.