READ: Review, The 30-Day Praise Challenge by Becky Harling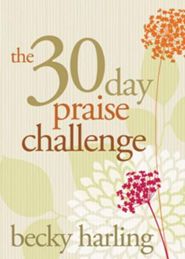 You need to stay in praise.
These words came in a still, small, but definite whisper from the Lord. December was about to begin, and I faced a huge challenge. I had to finish writing a book due to the publisher at the end of the month. And at that point, I'd completed less than half.
I knew that the joy of the Lord is my strength and that worship always makes me stronger. I knew that the book's topic left me open to attack. And I knew that praise makes a good prescription no matter what the situation.
And then I remembered. Earlier this year, Becky Harling, a pastor's wife and precious author friend, released The 30-Day Praise Challenge (David C. Cook, 2013). I'd seen much of the book in an early format. I knew it had great sales and that Becky had already written a second in the series.
But I'd never read it myself. Wouldn't thirty days of praise make a great way to attack one of the most challenging times of my life? One quick purchase and the challenge began.
I'm only ten days in, but I've interrupted my planned blog schedule to share this book with you. December challenges people in so many ways. Christmas plans. Church activities. Family struggles. Financial problems. Stress and activities escalate. Peace declines.
If any of this sounds like you, I strongly suggest that you check out The 30-Day Praise Challenge. Because it's December and I know time is at a premium, let me give you a quick summary of what I love about this book:
Relevance: The author touches us where we live. She gets it—and makes it easier for us to turn our problems toward praise.
Tone: I feel as though Becky is talking to me but never preaching at me. Her words make me look forward to the next day's reading because I know I'll find encouragement there.
Organization: Each day begins with the "Invitation," words of encouragement and exhortation that always include Scriptures. A "Listen" section matches worship songs to the reading of the day. "Pray" and "Journal" give the reader specific ways to respond to God's work through the message and worship of the day.
Tech-friendliness: The author provides a link on her website to a YouTube playlist for rapid, easy access to all the songs.
Tight: This is not the wordy, flowery devotional but a well-written, well-edited work that speaks the truth and moves on. The author also provides a good balance of interactive and reflective material.
If this Christmas season has brought more tension than tinsel, or if your holiday packages seem more like burdens, you'll want to buy at least two copies of this book: one for yourself and one for someone who also needs to stay in praise. And don't forget to watch for my "Words with Friends" interview featuring Becky later this week!
Christmas Bonus: Becky is offering one copy of this book to one person who comments either here or on the "Words with Friends" post featuring her later this week. Is there a special reason this book would bless you or a friend? Do you have a story of a time when praise changed your perspective? Share in a comment below before this Saturday night, December 14, and I'll enter your name in a drawing to receive the book (US addresses only, please, and be sure to leave an email address with your comment). I'll announce the winner next week!
FTC Disclaimer: I know the author personally but was not asked or required to post a positive review. I bought the book myself and was offered the prize book after I shared my plan to post a review.
Find a local Christian bookstore.
Find this book on Amazon, at Barnes & Noble, at Christian Book Discounters, or at Deeper Shopping.