WRITE: Words with Friends: Author Janet Thompson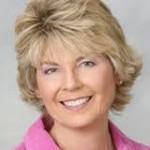 One of the ways God grants me relationships with other authors is through AWSA, the Advanced Writers and Speakers Association. This fellowship of more than 300 women, founded by author and speaker Linda Shepherd, exists to promote cooperation, not competition, between women whose ministry lies in the area of writing and speaking. Although Janet and I haven't yet met in person, our contact through AWSA has made us fast friends. I was delighted to present a review of her new book earlier this week, and I'm delighted to welcome her to Words with Friends.
Dear God, He's Home! A Woman's Guide to Her Stay-at-Home Man (New Hope Publishers, 2013) is the third book in the "Dear God" series by author and speaker Janet Thompson. Janet is the founder of  Woman to Woman Mentoring and the author of seventeen books, including: Dear God, They Say It's Cancer; Dear God, Why Can't I Have a Baby?;  Praying for Your Prodigal Daughter; The Team that Jesus Built; and the Face-to-Face Bible study series. Janet and her stay-at-home man, Dave, are enjoying this season of life in the rural mountains of Idaho.
Greetings, Janet! What inspired you to write a book about living with a stay-at-home husband?                                                                          
Dear God, He's Home! is the third in a "Dear God" series. The first two are Dear God, It's Cancer: A Companion Guide for Women on the Breast Cancer Journey and Dear God, Why Can't I Have a Baby? A Companion Guide for Couples on the Infertility Journey. Each of the "Dear God" books mentor women who are on a journey that I've been on myself. I know the loneliness and need for support and understanding that isn't always available, so I write to mentor and encourage these women. The best compliment is when someone tells me it seems as if I'm sitting right beside her while she read my books.
In Dear God, He's Home!, I chronicle the difficulties and joys my husband and I encountered during the various seasons of him being a stay-at-home man: multiple layoffs, illness, disability, and now, retirement. I understand the strain on a marriage of a husband suddenly being home 24/7, regardless of the reason. As in all of my books, I offer various perspectives from other women who are willing to share their stories to help others going through something similar.
Please tell us a little about your research. How did you encounter other wives with stay-at-home husbands? What struck you about their experiences?
Whenever I mention the title of this book, wives smirk with raised eyebrows and knowingly remark, "Boy, do I have a story for you!" "I need this book." "I know someone who could use this book." Or "I'm going to need this book soon; write fast!"
When I sent out an email or Facebook request for stories of women with a husband home due to retirement, illness, disability, out of work, home office, the military—whatever reason—the  stories flowed into my inbox.
I noticed that whatever circumstances brought a husband home, most couples admit they didn't prepare for a time of being together 24/7.
I agree: this book covers a needed topic. What would you say is the most common struggle wives have with their stay-at-home man? And what is the most common struggle that husbands have as a result of becoming a stay-at-home man?
Regardless of the reason for this season, wives of stay-at-home men experience similar difficulties, hardships, and blessings. The specific circumstances might be different, but the heart issues are the same.
The struggle I heard most often from wives with a stay-at-home man: he's invading "my space." They recount the loss of my home, my space, my privacy, my domain, my downtime, a place to call my own. As if that weren't enough, looking for something to do with all his newfound free time, the husband may decide to rearrange her routine, her kitchen—her life! One wife lamented that her CEO retired husband was organizing her kitchen and alphabetizing her spices. Another wife compared it to her going into his office, sitting in his chair, and rearranging his desk for him.
The wife may also feel like her work load is increasing while his is decreasing, especially if she is still working or has to go back to work to support the family. The dismal prospect of him expecting lunch every day was lamented by the majority of wives.
At the same time, the stay-at-home husband is now trying to find his space in what used to be her space, and that can lead to crowded space. Military families call this the "reentry phase" or reintegration—fitting back into "normal" home life and society. In Called To Serve, Lt. Col. Tony and Penny Monetti, who are endorsers of Dear God, He's Home!, quote one returning solider who said he felt like "a background wall in his own home." I find this an apt word picture for any stay-at-home man.
The home balance of authority feels off-kilter when a husband is home.
Speaking (or writing) of the military, how can your book help women whose husbands are returning from deployment?
Military wives would be good mentors to every woman with a stay-at-home husband because they experience the reintegration process every time their husband returns home from deployment.  The wife has been in charge while her husband is gone, and they both have to figure out how to transition him back into the home schedule and activities. In addition, she must  relinquish responsibilities taken over in his absence. The chapter topics and Mentoring Moments in the book offer encouragement and ideas for dealing with specific issues.
Dear God, He's Home! shares stories from military wives and their coping tips, which are often applicable to every wife with a stay-at home man. For example, Kathryn shared: "In talking to many military wives, [I discovered that] ]one of the biggest challenges of a loved one returning home is meeting him right where he's at and adjusting to the "new normal." Every woman with a stay-at-home man experiences a "new normal."
The "Sanity Tools" section of the book also contains a section dedicated to support for military couples.
How can readers benefit from the examples and advice you offer?
I include stories and scenarios from a variety of perspectives, not just my own so that the reader will surely find an example and situation she can identify with. Everyone who shares, including my husband and me, is open, vulnerable, sometimes raw, and often humorous.
I don't want the reader to rely only on my suggestions and advice. Each chapter includes "God's Love Letter to You," which is paraphrased and personalized Scripture, and "Let's Pray" where I pray with the reader. There's also space for her to write her own "Dear God," and practical application tips are provided in the Sanity Tools section.
My husband has been a stay-at-home man numerous times during our marriage, and I understand the stress it puts on a relationship. Couples like us and those who share their stories in the book, who have experienced and survived the stay-at-home transition, can reach out to offer seasoned encouragement, tips, and prayer for couples going through it right now.
Who is your biggest supporter in your writing?
I dedicated this book to my stay-at-home man, Dave, who selflessly allows me to write and speak vulnerably and honestly about our messes and our miracles. I call him the "hero" of the book, but he laughingly refers to himself as "the sacrificial lamb." He wrote the Epilogue, and the way he signed it gives a window into the kind of support I have from him: "Janet's encourager, cheerleader, loving and devoted stay-at-home man, Dave."
What is your passion and why?
Mentoring is truly a passion, a purpose, and a mission that God put on my heart when I first went into ministry eighteen years ago. After graduating from seminary, I asked God to use me in the business world where I had spent most of my career and was familiar and comfortable, rather than in women's ministry where I had no experience. But as He often does, God put me in a ministry where I would have to depend completely on Him, the Woman to Woman Mentoring Ministry. He soon gave me a heart for women and the issues we all deal with in everyday life. My passion is to help women learn to share life's experiences and God's faithfulness. That's my tagline and what I try to do in my books and speaking.
All my books have a theme of mentoring from experiences others and I have encountered with the goal of offering hope, help, and encouragement to the reader. For example, I also wrote Praying for Your Prodigal Daughter (I had one) with the subtitle Hope, Help, & Encouragement for Hurting Parents.
My passion and mission is to help women learn how to use the good, the bad, the ugly life experiences to reach out and help another woman going through similar circumstances. It always helps to know we're not alone, and someone else has survived what we're going through now.
Do you have a question or comment for Janet? Leave one here or on the review post to be entered into a drawing to win my review copy of her newest book along with your choice (one of three)  of another new book! I'll choose a winner at random.org and let you know next week. 
Read a snippet of Dear God, He's Home! A Woman's Guide to Her Stay-at-Home Man
Watch a book trailer
Find a local Christian bookstore
Find this book at Amazon, Barnes & Noble, at Christian Book Distributors, or purchase a signed copy
Find Janet on her website, on Facebook, LinkedIn, Pinterest, and Twitter