READ: Review, Dear God, He's Home!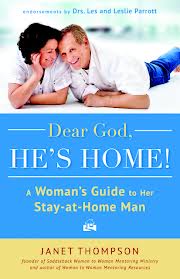 "Honey, I'm home!"
For the most part, that expression evokes happiness (or at least satisfaction). But when the reason for a husband's homecoming is job loss, illness, a return from deployment or other work-related travel, retirement, or even a personal choice, those feelings—and family life—can turn upside down.
In those seasons of life, the most typical response may match the title of today's review book: Dear God, He's Home! A Woman's Guide to Her Stay-at-Home Man by Janet Thompson (New Hope, 2013).
Our family has experienced the short- and long-term effects of a husband and father's homecoming due to unexpected job loss. And so has the author, who writes about her family's losses and lessons with poignant, powerful transparency. In this book, Janet, the founder of the Saddleback Women to Women Mentoring Ministry, pulls together biblical truth, personal stories, and positive advice in a unique, interactive format.
Dear God, He's Home sugarcoats neither the author's story of those of the many others she includes. As her family travels through season of shock, adjustment, support-seeking, grief, restoration, and more, Janet shares pages from her journal. She also includes stories from many other wives and family members (sometimes including the men themselves) affected by a stay-at-home man and the reasons for his homecoming. The book also includes "Mentoring Moments," in which Janet takes time to share the truths God has taught her through her times of difficulty and helps readers apply them to their own lives. Brief "God's Love Letter to You" (sections of Scripture for personalization) and "Let's Pray" sections help keep the focus on God rather than the stay-at-home situation.
Each chapter closes with a "Your Letter to God" section in which the reader has the opportunity to respond to the material in regard to his or her personal situation. "For Discussion" questions provide a safe format for discussing the material with a spouse, friend, or small group. And an information-packed "Sanity Tools" section at the end of the book gives helpful resources ranging from helps for conflict resolution to "10 Ways to Speak Well of Your Husband."
The short segments and brief chapters of this book make it an easy but thoughtful read. I believe this format would also allow a woman in crisis to pick it up, read a few pages or a chapter at a time, and receive practical, biblical truth.
Love "bears all things, believes all things, hopes all things, endures all things" (1 Cor. 13:7). In this way, Dear God, He's Home! is a love story, one that encourages readers to cling both to the Lord and to their relationships, persevering through the trials and trusting God for the victory.
Have you traveled or are you traveling through a season of a stay-at-home man? Have you faced a particular challenge? A victory? Share with us so we may learn along with you. 
When you leave a comment, please include your name and email contact information (either via your post or in the comment itself), and I'll enter you in a drawing to receive my review copy of Janet's book plus a bonus book (you'll get to choose from three). I'll select the winner over the weekend and announce the name early next week.
Thanks for sharing (and watch for an upcoming "Words with Friends" interview with author Janet Thompson, too).
(FTC Disclaimer: I received a copy of the book free from the publisher. I was not asked or expected to post a review.)
Find a local Christian bookstore
Find this book at Amazon, Barnes & Noble, or at Christian Book Distributors