Words with Friends: Dan Walsh
Dear Friends,
It may not look much like Christmas here in Mount Dora, Florida, with temperatures in the 70's today–but we're celebrating anyway. Tomorrow morning is our little town's annual Christmas parade. And my friend Dan Walsh, whose recent release, Keeping Christmas, is set in Mount Dora, has two appearances here this weekend. Saturday, December 5, from 1 – 3 p.m., he'll sign copies of his books at our wonderful hometown bookstore, Barrel of Books & Games. And Sunday evening, December 6 from 6 – 8 p.m., he'll participate in the Christmas Book-tactular at the Donnelly Building in Donnelly Park. If you live in the central Florida area, I encourage you to come out and meet him and the other local authors.
But since many of you don't live here, I thought we'd take some time today and get to know Dan and Keeping Christmas. (Read my recent review here). I first met him a few years ago when he was just making the transition from busy pastor to full-time novelist. But I'll let him tell you about that.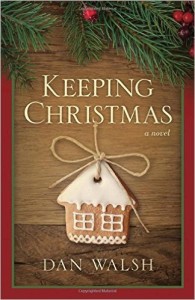 Welcome, Dan. For those readers who don't know you, could you give a little background on how you came to the writing life? I know yours is quite a story!
Thanks, Marti. I do have an unusual story. Let's see if I can share it in a paragraph. After serving full-time as a pastor for over two decades, I was experiencing some burnout, so I began writing a fiction novel to help me unwind and relax. After completing it, I polished it up and began the effort to get it published. To my shock and surprise, it was picked up almost immediately by an A-list literary agent, who had a contract with a major publisher in two months. That book, The Unfinished Gift, sold very well and won two Carol Awards. This led to more book contracts and eventually I left pastoring (at the twenty-five year mark) to write novels full-time. Keeping Christmas is my
fifteenth novel and I have already released book #16 (Rescuing Finley) on Nov 19.
Yours is the story of which so many writers dream. Of course, I was especially interested to read Keeping Christmas because the novel is set in my wonderful hometown of Mount Dora, Florida. How did you choose this location, and what research did you do?
When I got the idea for the story, I initially thought to locate it in a northern town. But two years ago, my wife and I visited Mount Dora during Christmas time and fell in love with the place. We had never seen a town so devoted to the Christmas holiday before, especially in Florida. Add in the beautiful hills and shady trees…we were sold. For research, we continued to visit the city and read everything I found about it on the internet, as well as watch all the YouTube videos online.
Mount Dora is a wonderful place to visit at Christmas time especially. How did you decide to write a Christmas-themed novel?
Essentially, I was asked to by my publisher. My other 3 Christmas–themed novels are my biggest sellers (The Unfinished Gift, Remembering Christmas and The Reunion). But they weren't twisting my arm. I loved writing those other books and happily said yes to their request.
It's often said that an author writes himself into every book. Like your characters Stan and Judith, you and your wife are empty-nesters. Did you go through any struggles like theirs when your adult children first left home?
We did. In fact, that's where the idea for the book came from, our first empty nest year. Although, our situation wasn't quite as severe as Judith's was. Both our children still lived in the general area, so we were able to see them for at least part of the holidays. But pretty much, all of our decades-long traditions came to a screeching halt that first year. I also talked with a number of other empty-nesters (some of them author friends), whose empty nest stories were every bit as challenging as Judith and Stan's.
We learn a few things about fishing in Keeping Christmas. I know you live on the coast—are you an avid fisherman like Stan and his best friend, Barney?
I am not. I love to fish but only on a boat (I don't have one). But I always say yes whenever a friend with a boat invites me out on the water. It's a great day even if you don't catch any fish (but you always do). And I love the taste of fresh fish. Thinking of a fond memory camping in the Keys with our kids. Went with a couple who had a boat, and we caught a ton of fish and fried them up all week long.
That sounds great. I do have a tougher question, Dan. Most of the reviews so far for Keeping Christmas have been great, but a few are 3-Stars. The complaint with them seems to be about Judith being a little too depressed (why she doesn't "snap out of it" sooner and focus more on others than on herself?). What would you say to these reviewers, if you could chat with them?
I understand their concern. Some people only want to read Christmas novels that are very cheery and upbeat. Keeping Christmas, at least during the first part, is not. My wife and I talked about this. We know that millions of baby boomers are entering the empty nest years (or already have), and many aren't prepared for the emotional challenges they face during the holidays. I wrote the book to entertain but also to connect with them and hopefully stir some good conversations between spouses, adult children and siblings.
You've recently branched out into genres other than romance, for which you first became known. What's next for your writing life?                                                  
I'm not sure any of my novels were truly romance novels, in the traditional sense. Most were more like love stories, with other elements besides romance in mind. I think love and romance are an essential part of life, so I include them in every story; even in my suspense novel, When Night Comes. I wrote this book somewhat as an experiment, to see if readers responded well enough to allow me to write both kinds of books going forward. Thankfully, they did.
I've decided to make When Night Comes the first book in the "Jack Turner Suspense Series." I'm writing Book 2 now and hope to release it in March. My newest novel, Rescuing Finley, is Book 1 in the Forever Home series. I plan to write Books 2 and 3 of this series before the end of 2016. It's pretty exciting for me, and fulfilling, to have the freedom now to write both kinds of books.
If anyone wants to find out when these books are ready to release, they can visit my website and sign up for my email newsletter, right there on the homepage. I only send one out when a new book is coming out or when a great book deal becomes available. It's www.danwalshbooks.com.
Thanks so much, Dan. I'm thrilled to let people know about your book and even more thrilled that you chose to set it in lovely Mount Dora.
Readers and Christmas-Lovers: Leave a note about one of your favorite Christmas traditions in the comments below, and I'll enter your name to win my review copy of Keeping Christmas along with a couple of other Christmas surprises! Leave your comment by Monday evening, December 7, and I'll use random.org to choose the winner and announce it next week. US addresses only, please.  
For His glory,
Marti
Dan Walsh is the bestselling author of 15 novels including The Unfinished Gift, The Discovery and When Night Comes. He has won 3 Carol Awards (finalist 6 times), 3 Selah Awards and 3 of his books have been finalists for RT Review's Inspirational Book of the Year. A member of American Christian Fiction Writers (ACFW) and Word Weavers International, Dan writes fulltime in the Daytona Beach area. He and his wife Cindi have been married 39 years. You can find out more about his books or follow him on Facebook, Twitter, Goodreads or Pinterest from his website at http://www.danwalshbooks.com.