READ: Why I'd Like to Review the Sword Study (But Can't)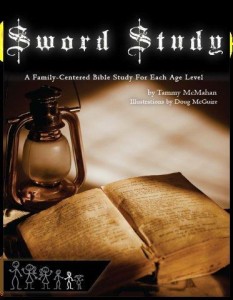 In the past year or so, I've stopped posting reviews on Amazon and other bookseller sites. I know too many authors to feel right about attempting to give unbiased opinions of their work.
But here at home on Read. Write. Pray, of course, I do post reviews. And I try to share my connections with my author friends through the rising-in-frequency "Words with Friends" feature. But some books, I still can't review.
That holds true in the case of a wonderful new Bible study series entitled Sword Study by Tammy McMahan (Glass Road Media, 2013). Tammy is a precious friend. She and I got to know each other, in fact, when we both prayed for a young man named BJ Higgins whose story became another book close to my heart, I Would Die for You by Brent and Deanna Higgins (Revell, 2008). God blessed me by allowing me to assist his parents in telling their son's story.
Out of our prayer partnership came a beautiful friendship and spiritual sisterhood. It didn't hurt that, a year or so after we became friends, Tammy and her family moved to the small Ohio town where my parents lived (my dad has since passed away). My children became friends with hers. And God provided other connections, too.
For all these reasons and more, I can't review the Sword Study. The "more" includes the fact that I do some writing and editing work for the Shelby Kennedy Foundation. Founder and sponsor of the National Bible Bee, the Foundation uses the Sword Study in tandem with the Scriptures as its primary curriculum. The "more" also includes the fact that I wrote the Vignettes (fictional accounts of real people) that introduce each Sword Study week. Much as I might like to, I can't offer a review of my own work.
And why would I like to review it? Because this fall, I'm spending part of my morning quiet time in Level 4 (ages 14 and up) of the 1 John Sword Study. And I'm loving every step of the deep, meaty, challenging, convicting, inspiring way.
Of course, that's not the only reason I'd like to review the Sword Study. Here are a few more of its special features:
Age-grading/Family-Friendliness: The Sword Study is written on multiple levels, from Level I (preschool) to Level 4 (ages 15 and above). Each level includes age-appropriate language and activities synchronized so all family members study the same passage at the same time. In this way, a family can customize a Sword Study purchase to fit its needs. I love this unique element of the Sword Study and wish I'd had something like it when my children were small.
Availability: So far, the Sword Studies for Colossians, 2 Timothy, 1 Peter, and 1 John have been released, with more in the works.
Parent Guide: A Parent Guide, available separately or packed with Level 4, gives step-by-step instructions for leading family members through the book.
Inductive Method: At each level, the Sword Study uses an inductive method, which means it not only moves from a general overview (Aerial View) to more specific information (Streetview) to detailed/hidden (Under the Rug) information about the text but also uses investigation, interpretation, and application to help the learner not only learn about the passage but live it.
Time-Conscious: The Level 4 study takes me 20-30 focused minutes five days a week. I find that reasonable for almost anyone who wants to spend time in God's Word.
10-Week: Each Sword Study is spread over a 10-week period, a comfortable amount of time in planning for a family, church, or organization. Those accustomed to twelve-or thirteen-week studies (say, in a church quarter) could easily add a week or two of Introduction, then Celebration at the beginning and end.
A.C.T.S. Prayer: The Sword Studies use a standard Adoration, Confession, Thanksgiving, Supplication prayer method within each day of study that helps keep the learner's heart focused on God rather than the study itself.
Ten-Day Diagrams: Helpful summary diagrams by talented artist Doug McGuire summarize each ten days of the Sword Study in a visual, memorable way. Like many others, I've come to love this unique component.
Scripture Memory: The Sword Study includes suggestions for Scriptures to memorize along with perforated memory cards at the back of the workbook. Those planning to enter the Bible Bee at any level will want to memorize these cards, but of course, they work for anyone who wants to hide God's Word within.
Write the Word: As a part of each day's study, the student (from Level 2 on up) makes a personal copy of the book studied by writing a few verses every day. By the time you've written out the entire book, you know it surprisingly well.
Read the Word: The Sword Study includes reading the entire book several times during the Aerial View and reading a particular chapter each day during both Streetview and Under the Rug sections of study.
Family Bonfire: Instructions in the Parent Guide give parents step-by-step assistance in leading a directed family time (flames suggested, but not required) that celebrates and reviews each week's learning.
Bible Bee Connection: As stated, the Sword Study is the primary curriculum for the National Bible Bee sponsored by the Shelby Kennedy Foundation and dedicated to honoring and celebrating the study and memorization of God's Word with at least as much excellence as we give to the study of spelling (National Spelling Bee) or geography (National Geography Bee). Your family need not participate in the Bible Bee to complete the Sword Study. But sometimes, a little competition (not to mention the $270,000 in prizes given at the national level) makes a difference.
             But the most essential component of the Sword Study is something I can't list as a feature: the heart for the Father that shines through the life, words, and inspired creation of Tammy McMahan. Tammy shared her vision for this study with me several years ago before she wrote a word of it. And what I heard then is what I read throughout the Study: the heart of a woman who loves God, loves family, loves the in-depth study of God's Word, and wants to see all of these connected in a life-changing, God-honoring way.
So, as Tammy's friend and ministry partner, I can't review the Sword Study. But as your friend, I hope I've at least given you reason to investigate it. As Tammy herself would say, "Charge!"
     Have you worked through one or more of the Sword Studies and/or participated in any component of the National Bible Bee? Share your comments here. I'd love to see your response! 
Find a local Christian bookstore
Find the Sword Study at Amazon, Barnes & Noble, at Christian Book Distributors, or at the Shelby Kennedy Foundation's own e-store