WRITE: Words with Friends: Michelle Cox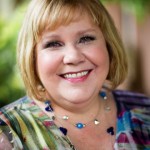 As promised, here's my interview with author, speaker, and woman of encouragement Michelle Cox. Because of our shared publishing connections, I "knew" and prayed for Michelle for several years before meeting her in person when we roomed together this year as faculty at the Florida Christian Writers Conference. I hope you enjoy this Words with Friends interview with Michelle. And if you missed my review of her new novel with Rene Gutteridge, Just 18 Summers, check it out here.
You've told me the fascinating story behind the start of the "Just 18 Summers" concept. Would you share it with our readers, please? My pastor dedicated a baby at church one Sunday morning, and as the parents turned to leave the platform, Rev. Sexton said, "Don't forget you have just 18 summers. Go make some memories." The poignancy of that slammed into me—particularly since my youngest son was getting married a few weeks later. I came up with the idea to do a gift book based on the thought, but God had much bigger plans. I'm now developing a complete brand based on the concept—and the release of my Just 18 Summers novel (co-authored with Rene Gutteridge) is an exciting component of that.
You're a mother of three and grandmother of six. How does Just 18 Summers relate to your own personal experience? My sons grew up way too fast—and now I think my grandbabies are growing up even faster. Seriously, I look back at those years with my boys and wonder how we got from the days when we brought them home from the hospital until now so quickly! We made a conscious effort to spend time with our sons and I'm so glad we did that . . . but I wish there'd been so much more. Six years have gone by since our youngest son got married and left home. I love my daughters-in-law and I'm crazy about my grandchildren, but there are still times when I miss my boys so much, days when I'd give a million dollars to walk down the hall one more time to tuck them into bed, to listen to bedtime prayers, and to hear the sounds of their laughter ringing through the house.
I know this concept has now become a brand, with a dedicated website, screenplay, and now the novel. Please explain how this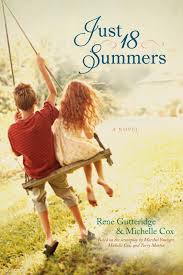 developed. Sometimes I feel like the poster child to prove God has a sense of humor, because it's absolutely hysterical how all of this happened. After hearing my pastor say those words, I'd come up with the idea to do a gift book based on the concept. About that same time, my friend, Lori Marett, was starting the Gideon Media Arts Conference and Film Festival. I told her I'd be glad to help her in any way and she asked if I'd transport the faculty back and forth to the airport. She told me to plan to stay for the conference. I remember telling her, "Okay, I'll do that. I don't have any interest in media, but I'm sure I'll meet some nice people." (And I imagine God might have chuckled at that point.) On one of those conference days, I stood in the hall with the schedule and said, "God, where do You want me to go?" I ended up in a songwriting class. Did I mention I don't know a note of music? Our instructor paired us with another person. Angela Walker was my partner and when she said she didn't have a clue what we could write about, I mentioned my gift book idea. We wrote what became the chorus for the Just 18 Summers song and when we went around the class and read what we'd written, everyone cried when we read ours. Angela went back to California and I went home to North Carolina and we didn't do anything more with the song, but a short time before the next Gideon Conference rolled around, I decided to finish the lyrics so I'd have them ready if the instructor asked if we'd finished them. It just so happened (yeah, right) that a man in my church owned a recording studio. Larry and I went into the studio and he wrote the music as I tweaked words. We didn't have time to get someone else to record the demo, so I ended up singing it (now that's funny!) and we had twenty minutes to record the demo. The following day I went to the conference and sat down in a songwriting class taught by Dave Moody from Lamon Records. He had us tell briefly about what we were working on, and I said one sentence about my Just 18 Summers song. He made a beeline for me after the class and told me he'd like to hear the song. Long story a little bit shorter, I ended up with a contract to have Lamon Records record the song. And from that, I ended up with a contract to make a movie. Did you get that? I got contracts with a record label and a movie company based on a nonfiction book idea for a book that hadn't been written, at a conference where I'd only gone to help with faculty transportation. Hilarious, huh? I worked with Torry Martin and Marshall Younger on the screenplay. Since I'd never considered doing a fiction book, we started the process with no story. I wish I had time to give you the details about how cool it was that when the three of us got together to work, we all came with ideas, and not one of them conflicted with the others. All of them seamed together perfectly without any holes and we had the skeleton for the screenplay in about 15-20 minutes. Only God could have done that! As people started hearing about our project, young parents kept coming to me and saying, "We want to be good parents, but we don't know what to do. Will you help us?" And from that came the idea to do a parenting blog to equip and inspire parents and to help them recharge their parenting batteries. The blog launched on January 1 with a staff of 18 fabulous writers. It's like a magazine and we have new posts each Monday-Friday. I hope you'll join us there at www.just18summers.com. My Just 18 Summers novel (co-authored with Rene Gutteridge) released on April 1. Readers are telling us that they love the poignancy but they also love that the book's so funny. I hope you'll enjoy reading it—and that you'll tell 800-1000 of your nearest and dearest friends about it. We hope to eventually have a complete line of books and products for families. We're working on raising the funding for the film and will let you know when we have more news about that. I love how God put this project together. It makes me smile when I see His fingerprints on every piece of it, and I'm so glad that He arranged it where it's clear that He gets all the praise and glory for it!
I love every part of this story, especially the way God intervened over and over to make the impossible happen. What are your hopes and prayers for people as you reach out to them through Just 18 Summers?
Eighteen years sounds like a long time—but in most cases we really have just 18 summers before our children leave home. Eighteen short summers to make memories together, to instill character and life lessons, to enjoy the moments. I hope parents will realize how quickly those summers will fly by. Savor the sweetness of those moments, because one day soon—before you blink twice—they won't be there to do that. Don't forget you have just 18 summers. Take time to make some memories."
Where can folks find more information? Visit us at www.just18summers.com for the parenting blog, information about the Just 18 Summers novel and the Just 18 Summers® brand, and info on how to invite Michelle to speak at your event. You can also find us on Facebook and  Twitter.
Thanks so much, Michelle! Every parent with whom I've shared the Just 18 Summers concept has resonated with it. Thanks for following God as He continues to lead you. I look forward to seeing all the great things He does!