WRITE: Reflections on the Florida Christian Writers Conference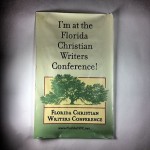 It is finished. The conference we worked for, waited for, and prayed for is now history—at least until next year. So in the wake of the conference and as I prepare to leave on another trip, I thought I'd share some highlights.
Every good writers conference offers appointments with editors and agents as well as all sorts of workshops and continuing classes. I won't take time to go over those except to say the FCWC shone with a glittering array of publishing stars. I heard so many comments about caring teachers, excellent handouts, and wonderful choices. Kudos to Directors Eva Marie Everson and Mark Hancock for putting it all together with the assistance of amazing manager Sarah Bulls.
So what made the FCWC unique and extra-special?
 Directors' Banter (with an undertone of caring) between Eva Marie Everson and Mark Hancock. I knew both these people prior to their conference leadership, but never realized their potential in stand-up comedy. These two made even announcements fun.
 Large-group worship under the leadership of Robert Gorini, lead singer of Nonparell. His sensitivity and passion set the tone for our times together.

 
Lake Yale Baptist Conference Center. I must give a shout-out to the location near my own central Florida home. The beauty of the grounds is matched by the excellence of the food (with gluten-free and other options available) and the warmth of the staff and volunteers. LYBCC offers plenty of room and technology in classrooms and in the worship center, with free wi-fi throughout. Some of the rooms have been updated while others await their makeovers, but overall, it's a pleasant stay.
 Shuttle Service: Instead of asking you to arrange your own transportation to and from the airport (1.5 hours away), the FCWC provides shuttle service for a reasonable fee. This removes the guesswork from conference travel planning and allowed for worry-free trips for faculty and conferees.

 
Weather:

It's Florida. And even when rain hits—as it did on the first day of the conference—it's Florida. I caught several conferees sitting in the sun by a convenient fountain or otherwise enjoying His beautiful creation. After a winter like the one most parts of the country have endured, the FCWC makes a fantastic place to thaw out and improve your writing at the same time.
I'll add to my list later this week. And in the meantime, did you attend the FCWC? Do you have some additional comments? Or, if you couldn't come, do you have something you'd like us to know? I'll be sure to share your responses with Eva Marie and Mark, so let me know your thoughts!