WRITE: Never the Same Missions: Gentle Giant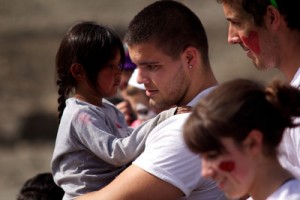 Young men are often in short supply on mission trips. Because some of the publicity for the Never the Same trips comes from a teen girls' magazine (Sisterhood), teen guys may not think they belong. And (sad but true) adult men have often given the idea that missions and mission trips are for girls.
Nothing could be further from the truth. Because of this, I'm always grateful for the young men who do come along on our trips. We need them for the different parts of the drama, for carrying some of our heavier items, for protection, and especially to serve as role models for younger students. We need them because our trip and our teams provide a picture of the body of Christ, which is made up of all different sorts of members—male and female included.
Ian was probably the young man I was most looking forward to meeting before our 2013 trip to Peru. I knew his older sister, Leah, from previous mission trips. And I was so excited when I heard he was joining us this time around.
Leah is petite and beautiful with a tender, caring heart (since the Peru trip, she's traveled again with Never the Same on a Christmas break trip to Panama). Ian is tall, with the broad shoulders and chest of a grown man. But his tender heart reminds me of his sister's—and of another Man whose strength and gentleness changed the world.
I hugged Ian when I first met him during training. I watched him interact with his fellow students, noticing his quiet, observant attitude along with his broad smile. But it was on our first day of ministry that I got to see him in action. He served on the same team as Grace (read her story here) and also taught me a lesson.
Ian's approach was more quiet and gentle than Grace's. But, like her, he engaged with nationals and with his teammates in a way that showed the love of Christ. I watched as he spoke to teammate after teammate to encourage them in their first day of real ministry. I smiled as he lowered his bulk to the ground to speak to the small children clustered around him. I marveled as he lifted first one, then another, with care. He made the little boys feel like men and the little girls like princesses.
But like all of us, there is more to Ian's story than what shows on the outside. In 2012, Ian's father, Maj. Robert Marchanti, was one of two National Guardsmen killed in a shooting inside the Afghan Interior Ministry in Kabul. Beyond the pain of the tragic loss, his family had to wait weeks to receive the body and hold the funeral.
After such a great loss, Ian could have chosen to fold into himself. He could have made many other choices than to give up two weeks of his summer to serve the least of these in Peru. But what this gentle giant taught me was the lesson I often have to relearn: that in giving ourselves, we receive much.
Thank you, Ian, for serving so sacrificially and so well. And thank you, God, for young men like Ian who are willing to give of themselves that others might see and know you.
Is God calling you to follow in Ian's footsteps? Is He asking you to give up something for the cause of His kingdom?
If you're interested in joining us this summer in Costa Rica, you can find out more information here. Feel free to share your thoughts or comments below. And watch for more Never the Same posts coming soon!
 (P.S. And how could I have forgotten? The winner of last week's drawing for Morning Moments with God by Grace Fox is none other than my choir buddy, Doris Hutchinson! Congratulations, Doris. So all of you know, I assign each name a number in the order in which it was received, then allow www.random.org to choose the winning number fair and square. Watch for more contests–and an interview with author Grace Fox–later this month.)