WRITE: Escape the Lie: The Story behind the Book, Part I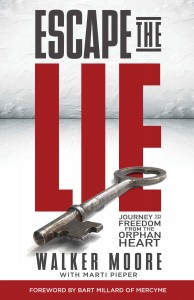 "How did you come to be involved with this book?" a friend asked. Escape the Lie: Journey to Freedom from the Orphan Heart released last week on the day I flew home from teaching at the Colorado Christian Writers Conference. I came home to two cases of the book resting on my office floor. And even though midnight had just passed, I had to hold one of the real-life copies in my hand before I went to bed.
My writing partner, Dr. Walker Moore, and I agree that the path to publication has been a journey—a personal, spiritual one as well as a professional one. Escape the Lie is the third book on which we've collaborated (the other two are Rite of Passage Parenting: Four Essential Experiences to Equip Your Kids for Life and the award-winning Rite of Passage Parenting Workbook). We first connected when a friend recommended the student missions-sending organization he founded, Awe Star Ministries, as a great avenue for our two oldest daughters, then fifteen and sixteen. Since then, all five Pieper children have served multiple times with Awe Star, and I've also served with Awe Star teams in both Mexico and Panama.
In 2005, because of our involvement with Awe Star, I was part of a group of thousands across the world who were praying for fifteen-year-old BJ Higgins, a committed follower of Christ who fell ill after serving for the second time with Awe Star in Peru. When I saw the potential for a book in his story, I wrote Walker and volunteered to help. The memoir that resulted, I Would Die for You, became a Young Adult bestseller and continues to draw people toward the God BJ served with such passion.
But even before I had the opportunity to assist BJ's parents in telling his story, I began editing Walker's popular weekly column in the Oklahoma Baptist Messenger. Walker is a brilliant Bible teacher, but, like two of my daughters, he's dyslexic. He doesn't think of himself as a writer, but his combination of biblical wisdom, humor, and life-changing stories (many from his years of experience on the mission field) has a way of touching lives few writers can achieve. For his column, I have the privilege of making sure the words appear in the right order and the stories make sense.
For his books, though, we have a different way of working. In fact, we wrote much of Rite of Passage Parenting before we ever met. At first, he sent me some of his old writing and workshop videos, asking me to turn them into something fresh.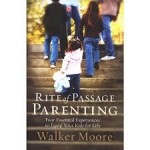 He hated the result. And I hated that way of working. So since that time, I do the organizing, and he blocks out some phone time (sometimes days and hours) for me. Then "Explain (this principle," I tell him. Or "This doesn't make sense to me. Help!" Sometimes, I ask for a story or illustration. Walker might say I'm good at pushing his buttons, because no matter how difficult the question I ask, he has an immediate response. He teaches, and I translate his stories and wisdom into words that we pray make a difference.
That's the story behind Escape the Lie. Walker has been preaching messages on this topic across the country and around the world for the past several years. And everywhere he goes, people want more. Not only do they want more, but they line up to tell him their own Orphan Heart stories—some of which we used in the book.
So what's an Orphan Heart? And what's the book about? I'll share that "story behind the book" in my next post. But for now, check out the links below. And yes, I've done lots of giveaways for others' books, so let's do one for Escape the Lie, too. Here goes:
To receive an entry into a drawing for a copy of Escape the Lie along with a bonus copy of Rite of Passage Parenting, leave a comment or question below.
To receive a bonus entry into the above drawing PLUS a download of the first chapter of Escape the Lie, subscribe to my newsletter/blog feed here.
To submit a prayer request, leave a comment or email me at the "contact" link above. I'm always honored to lift you before Him.
I'll keep the drawings open until Sunday evening, June 8, so you have plenty of time to comment. Thanks for reading. I look forward to sharing more.
 Find Escape the Lie at a local Christian bookstore
Find Escape the Lie on Amazon, at Barnes & Noble, or at Christian Book Distributors  (print and e-book versions)
Order an autographed copy of Escape the Lie from Awe Star Ministries (give information about for whom you want the book signed when you place the order)