WRITE: Devotionals, Out of the Dust: The Miracle Tire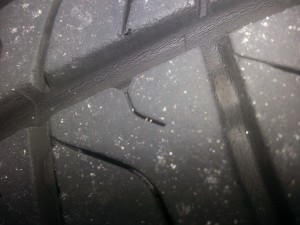 Long before she served him overseas, God was doing miracles in Avis Goodhart's life. Today's devotional from our book Out of the Dust shows His power in her family's time of desperate need.
#4 The Miracle Tire
Scripture Reading: Jesus looked at them and said, "With man this is impossible, but with God all things are possible" (Matthew 19:26).
Thought: God can choose to show His grace through miracles because with Him, all things are possible.
Excerpt, Out of the Dust: God sometimes shows His grace through miracles. Maybe you've experienced that, too even if you've never seen a miracle tire.
One night on a twisty mountain road with all our belongings piled on top of the car as usual, a tire blew. Dad bumped to the side of the road to examine the flat.
"It's bad," he reported. "All torn up and cut." He jacked up the car, making sure we all stayed inside. "Elsie," he told Mom, "Don't let the kids out. They'll get killed."
He took the tire and trudged down the hill, his pockets empty. As he left, all of us kids cried. I don't remember if we prayed or not, but I do remember we all had a deep concern for Dad and our ruined tire.
Dad went to the first garage he saw and showed the tire to the mechanic on duty. "Can you fix it?" he asked.
The man looked at the tire. "It's all chewed up," he said, shaking his head. "There's nothing I can do. Why don't you check with the garage across the street?"
Dad took their advice. Again, he asked for the mechanic and showed him the flat, ready to begin his spiel. But to his surprise, the tire now looked normal. No longer destroyed, it looked solid, whole, and ready to use again. God fixed the tire while Dad walked across the street. All the mechanic had to do was put it back on the rim.
Dad came back and told us the story right away. "I can't believe it. I didn't know what I was going to do," he said, adding, "I didn't have a cent. Only God could have healed that tire." (Chapter 5)
Prayer: Lord God, thank you that you have no problem invading the natural with the supernatural. Make me aware of your provision, no matter how it comes.
Do you have a question, comment, or prayer request? Feel free to share it below or email me through the link at the top of the page. I'll respond as soon as I can.
Purchase Out of the Dust on Amazon, at Barnes & Noble, or at ANEKO Press (release date 11/1/14).
Download a free Kindle excerpt from Out of the Dust.
Find Out of the Dust on Facebook.
Read about Avis Goodhart and Go Ye Ministries.