WRITE: Devotionals, Out of the Dust: Obstacle Course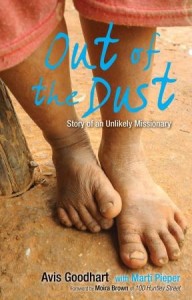 Although the overarching theme of this blog is "Read. Write. Pray," missions and mission trips take a prominent place here. The necessity of taking the gospel to the nations has become my heartbeat, and I've been blessed to serve overseas as well as to help send many of my family members on mission trips across the world.
This blog has gone silent for a while in part due to the pre-publication work on a book I wrote that will release November 1. Out of the Dust: Story of an Unlikely Missionary is already available for pre-order. (If you live in my area and want to buy a copy, let me know.) This book shares the amazing memoir of Avis Goodhart, servant of Jesus Christ and missionary to Peru.
Everyone has a story, but not every story needs to become a book. Avis's challenging, inspiring story did. For the next few weeks, this blog will feature devotionals that include excerpts from our book. These provide both what I hope will be a thoughtful read and an intriguing sample of a book you'll want to own.
Avis and I donate all the proceeds from Out of the Dust to her nonprofit, Go Ye Ministries. I encourage you to sign up for her mailing list here. After we finish the devotional series (and about the time of the book release), I'll share more about Avis and her passion for the least of these. But for now, let the devotions begin.
Out of the Dust Devotionals
By Avis Goodhart with Marti Pieper
 All excerpts are taken from the book Out of the Dust by Avis Goodhart with Marti Pieper (ANEKO Press, 11/1/14).
 All Scripture quotations, unless otherwise indicated, are taken from the Holy Bible, New International Version®, NIV®. Copyright © 1973, 1978, 1984, 2011 by Biblica, Inc.™ Used by permission of Zondervan. All rights reserved worldwide.www.zondervan.com The "NIV" and "New International Version" are trademarks registered in the United States Patent and Trademark Office by Biblica, Inc.™
 #1 Obstacle Course
 Scripture Reading: While walking by the Sea of Galilee, he saw two brothers, Simon (who is called Peter) and Andrew his brother, casting a net into the sea, for they were fishermen. And he said to them, "Follow me, and I will make you fishers of men." Immediately they left their nets and followed him. (Matthew 4:18-20)
Thought: Following God requires faith (and persistence).
Excerpt, Out of the Dust: When I set out at the age of fifty to make my first international mission trip, I met some obstacles even before I landed in Honduras:
"I'm sorry," the man at the ticket counter said when we attempted to check our unusual baggage. "You can't travel with all these. You'll have to choose what to leave behind."
"But I called ahead," I pushed back. "These are supplies for orphans in Honduras. What will the children do without them?"
For all the good my questions did, I might as well have said the supplies were for aliens in outer space. So Tia and I did the only thing we knew: we prayed. Together, we gripped the stroller handle and marched back and forth near the ticket counter. The baby's screams added to the overall chaos.
"I'm not going without the tubs, you know," I spoke out when the man from the airlines approached again. "I'll pay extra. I don't care – I want them down there, so get them on the plane." Our little team kept marching and praying, our only accompaniment the baby's now-occasional sobs.
Suddenly, a different airline employee in a dark uniform appeared. "Ma'am?" he said hesitantly.
"Yes, sir?"
"We've got the room. My supervisor says the tubs can go."
Hallelujah! I knew my God could turn a mess into a message. I was so excited I was shaking as I hugged my family good-bye and boarded the plane. After all the waiting, all the praying, all the obstacles and dead ends, I was on my way at last. (Chapter 1)
Prayer: Lord, I need your help to follow you. When I encounter obstacles, help me to seek you first. I want my life to reflect your power.
Do you have a question, comment, or prayer request? Feel free to share it below or email me through the link at the top of the page. I'll respond as soon as I can.
Purchase Out of the Dust on Amazon, at Barnes & Noble, or at ANEKO Press (release date 11/1/14).
Download a free Kindle excerpt from Out of the Dust.
Find Out of the Dust on Facebook.
Read about Avis Goodhart and Go Ye Ministries.