Write: Devotionals, Out of the Dust, I Surrender All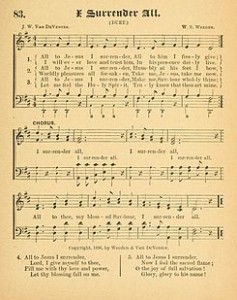 Today's Out of the Dust devotional tells about a turning point, a critical time in Avis's life when her choice would affect eternity. Desperation can drive us to act in ways we never anticipated. But God can also use it to move us into surrender.
 #7 I Surrender All
Scripture Reading: Therefore, I urge you, brothers and sisters, in view of God's mercy, to offer your bodies as a living sacrifice, holy and pleasing to God—this is your true and proper worship. Do not conform to the pattern of this world, but be transformed by the renewing of your mind. Then you will be able to test and approve what God's will is—his good, pleasing and perfect will (Romans 12:1-2).
Thought: God wants more from us than a shallow faith. He calls us to surrender all.
Excerpt from Out of the Dust: After my first marriage ended due to infidelity, I tried to make a new life with my second husband, Dean. But only a few months into the marriage, it looked as though I'd made another big mistake.
Our plan to put our two families together just wasn't working. On top of that, Dean was drinking, running around with other women, and drinking some more. He asked me to move out because "You make me feel guilty."
No kidding. At first, I took the kids and went back to my own trailer home. Then we moved to Arizona, closer to more of my family.
That's where I lay that night, ready for the dating game. I sat up, shimmied my shoulders, fluffed my hair, and unfastened my top button. What's the point of being good, anyway? I've been good my whole life, and look where's it's gotten me. Time for a new plan. Mine.
I looked in the mirror. I just want to have a good time.
I continued my preparations when a voice interrupted. "Go ahead. Try to make yourself happy."
What? God must have known I needed more than a voice, because the scene played out like a movie on the screen of my mind. A woman, fixing up a house for her kids and a man. The house looked beautiful, but soon the man got bored, and another came. The same scene repeated itself with another man, another house, another man, and another house. At the end, I saw the woman. Old. Wrinkled. Used-up. Worn-out.
I was the woman.
I knew God was offering me a choice: His way or my way; life or death. No more playing around with Christianity while keeping my options open. No more one foot in, one foot out.
I spoke to God as directly as He did to me. "With my children, without my children. With my husband, without a husband. Jesus, I'll follow you 'til the day I die." (Chapter 8)
Prayer: Lord, I know you call each of us to a life of surrender. Help me recognize my weakness so I can offer myself as a living sacrifice, holy and pleasing to you.
Do you have a question, comment, or prayer request? Feel free to share it below or email me through the link at the top of the page. I'll respond as soon as I can.
Find a local Christian bookstore where you can order Out of the Dust.
Purchase Out of the Dust on Amazon, at Barnes & Noble, or at ANEKO Press (release date 11/1/14).
Download a free Kindle excerpt from Out of the Dust.
Find Out of the Dust on Facebook.
Read about Avis Goodhart and Go Ye Ministries.
**BONUS: Watch Avis tell today's story and more in an appearance on Canada's 100 Huntley Street.**