WRITE: Devotionals, Out of the Dust, Free and Clear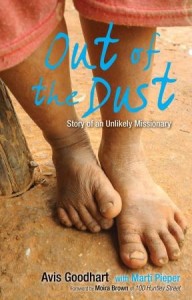 Today's devotional concludes our series from missionary Avis Goodhart's memoir, Out of the Dust: Story of an Unlikely Missionary. And it's a fitting day to conclude, because Out of the Dust has now released in multiple venues. Also, because of a misunderstanding on Amazon's part, the Kindle version is temporarily FREE. The publisher tells me this won't last long, but if you've enjoyed the devotionals, feel free to take advantage of this accident. We'd love it if you could help spread the word about Out of the Dust, since all proceeds go to benefit Avis's important work in Peru. Blessings!
#14 Free and Clear
 Scripture Reading: And my God will meet all your needs according to the riches of his glory in Christ Jesus (Philippians 4:19).
Thought: If we step out in obedience to follow Him, God takes care of the details.
Excerpt, Out of the Dust: In November, 2001, I returned home from a month-long mission trip. Within weeks, doctors discovered that my husband, Dean, had inoperable cancer. I put my mission work on hold to care for him until his death in February of the next year.
I still feel sometimes as though I've lost my anchor. Dean was that for me. He held our grown kids, finances, and home together while I ran all over the place. And he kept track of everything, including me.
I set everything else aside during his final months to focus on him. But just as he told me, God was preparing the way for me to serve overseas full-time. He took care of our finances first. Thanks to Dean's wise money management, we had no house payment. But while he was ill, the bills mounted, and the funeral cost more than his burial policy covered. I started calling around to figure out what we owed. With our small savings and the huge gift from the pie supper, I was able to pay off his doctors along with the imaging clinic. But that left the biggie: the hospital.
I made the phone call and reached the accounting department after a few transfers. I explained who I was and that I wanted to begin paying my huge bill. Something incredible happened next. "You owe nothing, Mrs. Goodhart. You're free and clear."
That news still flabbergasts me. It was a turning point, one of those times where you know God is sending you in a particular direction. I realized that being debt-free was a beautiful gift, but back then, I had no way to know just how beautiful.
When I think back, I realize I would never have gone to the mission field with unpaid debt. I would have gotten a job, started a business, or done something else to pay my bills. But that would have kept me home, and the Lord knew that. So He made a way for me to leave with a clear conscience and without any debt.
God showed me again that if I would step out in obedience, He would take care of the details. I would need to remember that lesson in the months and years to come. (Chapter 16)
Prayer: Thank you, God, that I can trust you with the details as you meet all my needs according to your riches in glory. Tune my heart to yours and help me always to follow you.
Do you have a question, comment, or prayer request? Feel free to share it below or email me through the link at the top of the page. I'll respond as soon as I can.
Find a local Christian bookstore where you can order Out of the Dust.
Purchase Out of the Dust on Amazon, at Barnes & Noble, or at ANEKO Press
Download a free Kindle excerpt from Out of the Dust.
Find Out of the Dust on Facebook.
Read about Avis Goodhart and Go Ye Ministries.