Words with Friends: Yvonne Ortega
Today, I'm delighted to introduce to you one of my dear author friends, Yvonne Ortega. Yvonne lives the title of her most recent book better than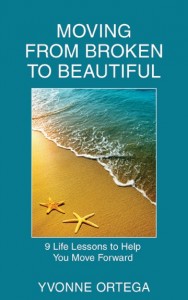 almost anyone I know. This dynamo Latina speaks, travels, and ministers in all sorts of ways. Her deep relationship with God along with His faithfulness through her trials has moved her to write her latest book, Moving from Broken to Beautiful.
I was blessed to write an endorsement for this book, and here's what I said: "In one small but powerful package, Moving from Broken to Beautiful combines the wisdom of an older sister, the straight talk of a counselor, and the unconditional love of a longtime best friend. Author, speaker, and licensed professional counselor Yvonne Ortega has the professional credentials and personal experience to speak into readers' lives with grace, humor, and genuine caring. Take time to process and interact with each of the book's nine life lessons, and you'll find yourself leaving destructive patterns of thought and behavior as you move toward a life set free by truth. Excellent read!"
But enough of my words. Let's hear from the author herself. Yvonne, you're celebrating the release of your new book, Moving from Broken to Beautiful: 9 Life Lessons to Help You Move Forward. What led you to write it?
Friends often asked me how I survived and thrived after a domestic violence marriage, divorce, single parenting, breast cancer, several car accidents, and the loss of my only child. I would tell them, and they would say, "You need to write a book about that. It would encourage other people."
After I heard some version of that response dozens of times, I sensed God leading me to write the book.
All those trials might cause someone to think the book might be somber or depressing. But I know (both because I've read the book and because I know you) it's not. Do you have any comments about this?
Just remember, the subtitle is 9 Life Lessons to Help You Move Forward. The style of writing is positive and hopeful. Friends tell me my sense of humor keeps the message upbeat.
I agree! Yvonne, how does your work as a licensed professional counselor influence the book?
I became a therapist after the divorce. My training and clinical experience helped me to focus on change for the better rather than being stuck in the past. However, my writing and speaking are not based exclusively on my training and clinical experience but also on the life lessons I learned. Although I've also used stories from other people, I have changed names and some identifying details to protect their privacy.
And what makes Moving from Broken to Beautiful an interactive book?
The introduction of Moving from Broken to Beautiful suggests how the readers can utilize the book. At the end of each chapter, the readers will find three activities, three affirmations, three Scriptural readings, a prayer, and two pages to journal their thoughts and emotions about the life lesson in that chapter. The book emphasizes application of the life lessons.
Those are great features. What additional resources make Moving from Broken to Beautiful an interactive book that encourages the readers?
Appendix A has thirty additional affirmations to encourage the readers. Appendix B has thirty additional Scriptural readings to give the readers hope that they, too, can move from broken to beautiful. Appendix C lists and describes helpful links for cancer, divorce recovery, domestic violence, grief recovery, and substance use recovery.
The book has one hundred and three pages. Did you have a reason for keeping it short?
Yes, I did. People who are going through a major illness or some other crisis don't have a lot of time to read. They want help and hope, but they want them quickly.
Where can readers purchase Moving from Broken to Beautiful?
They can go to Smashwords, Create Space, and Amazon. They can buy a paperback book or an e-book for the Kindle, iBook, Nook, Sony Books, Deisel, Flipkart (India), and Kobo (Europe).
Thanks so much, Yvonne. I appreciate the time you took to share all of this information.
And now a question for readers: Why do you think you should receive a free copy of Moving from Broken to Beautiful? Please post your answer in the comment section below before midnight this Sunday, May 3, and I'll enter your name in a drawing to receive a free copy (you get your choice of electronic or paperback version). 
FTC Disclaimer: I received an electronic copy of this book free from the author. I was not required to post a review or a positive response.
Bio, Yvonne Ortega: Yvonne Ortega is a Licensed Professional Counselor, a Licensed Substance Abuse Treatment Practitioner, a Clinically Certified Domestic Violence Counselor, and bilingual professional speaker. She is the author of Moving from Broken to Beautiful: 9 Life Lessons to Help You Move Forward and Finding Hope for Your Journey through Breast Cancer (Revell). She's also a contributing author to The Embrace of a Father and Transformed. Her website is www.yvonneortega.com. Yvonne is on the board for Christians in Recovery, speaks for Stonecroft Ministries, and is the Stonecroft Regional Speaker Trainer for Virginia. She loves to speak to audiences in either English or Spanish about her journey in moving from broken to beautiful and enjoys hearing from her readers.