Snapshots of Dementia: The Day the Music Died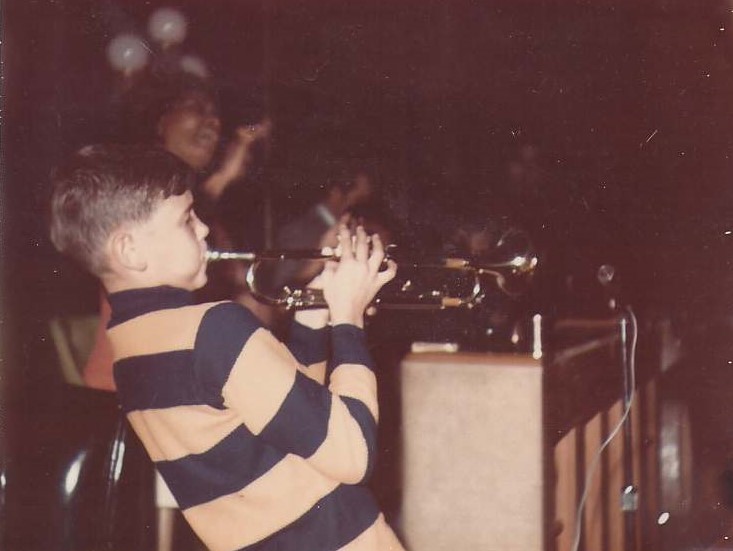 We refuse to let this thief steal our faith, our marriage or our family, but he has already taken Tom's ability to work, drive and play his trumpet.
The above words come from my November 2019 Facebook post, the first time I shared publicly about Tom's struggles with early-onset dementia. If you've read my recent blog posts, you understand why I referred to dementia as a thief.
But how could it steal his trumpet playing? Isn't that something he could do in his sleep?
One would think so. Trumpet playing has been such a part of Tom's identity that most longtime friends don't think of him apart from his trumpet. He began playing in third grade at age 9. By sixth grade, he played his first nightclub job. And by junior high, he was one of three students marching with the high school band.
Tom still has a T-shirt imprinted with "Band Nerd," and no description seems more accurate. All-city, all-state; you name it, and he did it. The kid who used to listen to Herb Alpert albums a few notes at a time, write down what he heard and then play the songs didn't even realize he had perfect pitch until a college professor identified it.
But his favorite expressions of music always involved worship. Years ago, I remember a dear woman of God saying Tom had a special anointing when he played for worship that was far greater than his natural ability. I fully believe this statement. Over and over, I saw his playing touch people's hearts in powerful ways.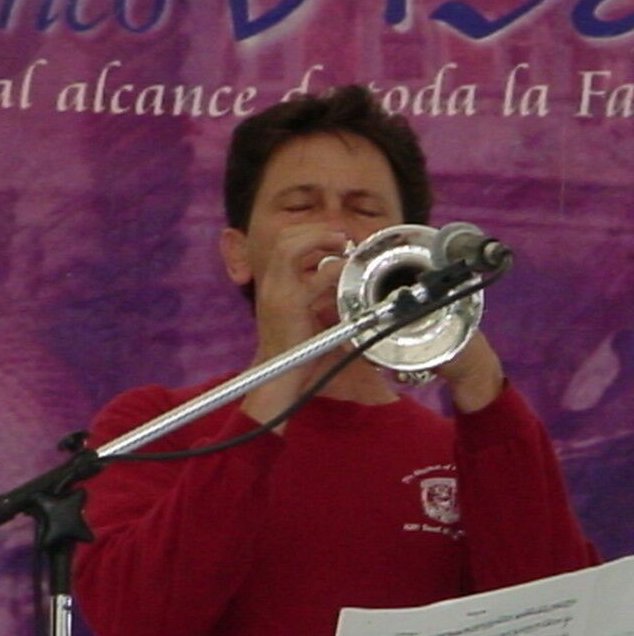 In May 2016, before we ever saw a neurologist, Tom was one of three lead trumpet players for a special recorded concert of the Florida Worship Choir & Orchestra. He had a busy few weeks before the concert and apparently didn't practice enough. When the evening ended, he knew he had injured his lip. He iced it during the concert and on the way home. "I can't play," he said. "I'll have to let it heal."
And so he did. For weeks. As part of his sixtieth birthday celebration, I gave him a summer trip to a trumpet camp run by one of his longtime trumpet heroes: Malcolm McNab, who played lead trumpet on thousands of movies and television shows. For Tom, this was the gift of a lifetime. But should he go with his injured lip?
He called to cancel, but Mr. McNab graciously convinced him to come. And Tom was so thankful he did. Not only did he get to spend time with his college music professor, Wiff Rudd (now head of the brass department at Baylor University), but he soaked in so much music that week. He came home excited about the recovery plan McNab had given him, telling me he could call them with questions at any time.
Except he didn't. He would practice, but rarely. He managed to play "Taps" at a funeral that fall, but a few months later, a dear friend passed away. Tom had promised to play for his service, but he now told the family he couldn't. And it seemed I felt more regret than he did.
As months and then years went by, I didn't understand: How could he give up his horn? What about the recovery plan? By this time, of course, other issues had arisen, but (still believing what the neurologist said), I didn't connect them with dementia. Not yet.
Once again, I was wrong. I now believe two common effects of dementia contributed to Tom's lack of interest and ability to play his trumpet. The first is one I've already mentioned: apathy. Many dementia patients withdraw not only socially but from previous activities and interests.
Dementia can also cause a loss of executive function, "a term that encompasses complex cognitive functions such as planning, judgment, reasoning, problem solving, organization, attention, abstraction and mental flexibility." The initial "memory problems" we noticed with Tom were, I believe, due to this loss. And what I ultimately realized now seems obvious: It wasn't that Tom didn't have the physical ability to play his trumpet (his lip healed, and he can now play without pain). But the thief known as dementia stole the discipline and attention required to practice and regain what he lost.
Not long after our move, we discovered he could still play segments of simple songs on his horn. He loves to teach our two-year-old grandson how to "buzz" on a mouthpiece or let him guess what song he is playing. But although he leaves his trumpet out in our guest bedroom, he has practiced only a handful of times since our move.
All these snapshots are like puzzle pieces. Together, they present a complete portrait of a man with dementia. But at this point, I didn't have the picture on the front of the box—or the knowledge to know where to find it.
If you have a friend or loved one with dementia, have you noticed a similar withdrawal from hobbies or favorite activities? If so, you suspect, you may want to read an article like this one and consider consulting a physician. Feel free to share in the comments below. Your story matters.