Snapshots of Dementia: 3 Lessons From Lincoln for Grandma (and any Caregiver)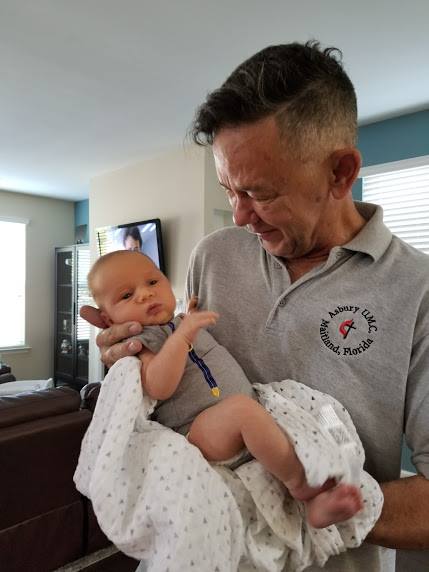 Dear Lincoln,
You're too young to read this although I'm sure, as advanced as you already are, it won't be long before you are reading not only letters but entire books.
First of all, I want to wish you a great  big HAPPY BIRTHDAY! Grandpa and Grandma love you very much and can't believe you're already 3 years old.
As soon as you're old enough (and hopefully no sooner), someone will tell you about the sad things that happened many years ago on this day. I want you to know that your birthday has given 9/11 new meaning for our family. We do remember the sad things, of course, but we also celebrate the wonderful ones—like you.
And do you know what? That's just who you are in our lives. Your joy in the world God has given us has helped change what might otherwise be a sad time into one of wonder and delight. Watching you play and laugh with Grandpa blesses me more than you can possibly know. You love him in a pure and powerful way that amazes, inspires and challenges me every time. He even told me once that he doesn't have to worry about what he might say or do around you because he knows you love him no matter what. That is a huge gift to us both.
I want to share with you three things I have learned from you, Lincoln. And all three of them help me do a better job taking care of Grandpa.
1. COMPASSION: Grandpa coughs a lot, and sometimes he stumbles. And almost every time you're around when he does one of these things, I hear you say, "You OK, Gwampa?" Your heart of concern helps me not taking even the smallest or most-repeated issues for granted. Lincoln, Grandpa is always more OK whenever he is with you.
2. PRESENCE: You love nothing more than having Grandpa and Grandma come up to your room and play, or sit beside you on the couch or even travel with you on the iPad as you videochat with us. We love the pictures you color, the cards you "sign" and the crafts you make. But even at only three years old, you've already taught me: Presence is the very best present of all.
3. CELEBRATION: Grandpa and I still laugh about the day you told us, "I'm so amazing!" I'm glad you have so much wisdom at such a young age. You are amazing, Lincoln, because of an amazing God who loves you even more than we do and made you "in an amazing and wonderful way" (Ps. 139:14a, NCV). We need to celebrate this on your birthday—and every other day as well.
I know you are starting to learn about Jesus. A long time ago, some of Jesus' followers asked Him who was the greatest. (Even way back then, people worried about silly things like that.) Instead of pointing out the strongest or the biggest or the smartest one, Jesus called over a little child and had everyone look. He told His followers, "I tell you the truth, you must change and become like little children. Otherwise, you will never enter the kingdom of heaven. The greatest person in the kingdom of heaven is the one who makes himself humble like this little child" (Matt. 18:3-4, NCV).
Lincoln, in some ways, this verse reminds me of both you and Grandpa. Right now, you are the little child whom Jesus called to Himself. And Grandpa is becoming more and more like a child, which in the upside-down world we call the kingdom of heaven (which is actually more right-side up than any of the other worlds), you are both very important—now and forever.
No matter what happens in the days to come, I want you to know always that God loves you, and Grandpa and I do too. Because of all these things, our not-so-little Lincoln, you are amazing!
Happy Birthday and Love Always from
Grandma