READ: Review, Harriet Beamer Strikes Gold by Joyce Magnin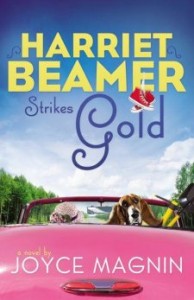 How do you solve a problem like Harriet Beamer? That's the question her son, Henry, often faces. And it seems to arise more often now that his salt-and-pepper-shaker collecting, adventure-seeking mother, Harriet, has moved into the home he shares with his attorney wife in Grass Valley, California.
In the first book of this series by award-winning author Joyce Magnin, we traveled with Harriet as she made the trek to her son's home via bus. Now, she's doing her best (most of the time) to make Grass Valley home. Lacking the close relationships she had back in Pennsylvania, she spends time at a neighborhood café only to get sucked into a deal that seems too good to be true.
Harriet may have left the road, but her journey continues. In this novel, the reader joins her as she travels through pending grandmotherhood, a tenuous relationship with her son and daughter-in-law, and important lessons like forgiveness and letting go.
All that glitters may not be gold, but the hidden nuggets in Magnin's latest Harriet Beamer novel make it well worth the delightful, come-as-you-are read. Well done!
Note from Marti: I consider author Joyce Magnin a friend, but I loved her work long before I met her. A frequent conference speaker, Joyce will keynote our Florida Chapters Word Weavers Retreat this October where she'll speak to us about the Power of Words. I've posted two WRITE interviews with her, which you can read here and here.
(FTC Disclaimer: I received this book as a gift from the publisher. I was not required to post a review or a positive response.)
Have you read any of Joyce's previous books? What other novels have you read with a senior citizen as the main character? I'd love to receive your comments and will pass them on to the author. 
Find a local Christian bookstore
Find this book on Amazon, at Barnes & Noble, or at Christian Book Distributors