READ: Review, Experiencing God's Presence by Linda Evans Shepherd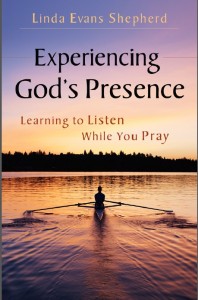 How often have you longed for a spiritual mentor—someone to travel alongside you, encourage you, and teach you from both the Word and personal experience about your walk with God?
Popular author and speaker Linda Evans Shepherd becomes that mentor in her new release, Experiencing God's Presence: Learning to Listen While You Pray (Revell, 2013). Much more than a treatise on prayer, this book shares a treasure trove of information about developing a deep and intimate relationship with God.
The author of everything from a popular novel series (The Potluck Club series, with coauthor Eva Marie Everson) to multiple books on spiritual growth, Linda shares personal illustrations, practical principles, and model prayers as she leads readers to know Him more.
The book contains numerous special features that add to its value. "Behold Jesus in Prayer" and "Making it Personal" sections offer ready-made prayers for those who need someone else to offer the words they lack. Scripture lessons in story form provide a refreshing look at numerous aspects of ways God's people through the years have navigated their spiritual journeys. Blanks that allow the reader to respond to Scripture by writing down thoughts and praying through them to discern if God is speaking give the book an interactive edge.
I've spoken on the topic of listening prayer but, as I read this book, received some new and welcome insights. I'm glad to have the opportunity to have read this inspiring work from an author many of us consider both friend and mentor.
Have you had an experience where you can say you heard from God? Feel free to share it in the comment area below. Just like Linda's, your words may encourage someone else. Blessings, and be sure to watch for my Words with Friends interview with Linda Evans Shepherd later this week.
CONTEST WINNER! Although she's "not old yet," Barbara C is the winner of I'm Too Young to Be This Old by Poppy Smith, featured in last week's READ review, along with a bonus book. I'll contact her so we can make arrangements for shipping. CONGRATULATIONS!
(FTC Disclaimer: I received a copy of the book free from the publisher. I was not asked or expected to post a positive review.)
Find a local Christian bookstore
Find this book on Amazon, at Barnes & Noble, or at Christian Book Distributors