READ: I, Saul, by Jerry B. Jenkins with James S. MacDonald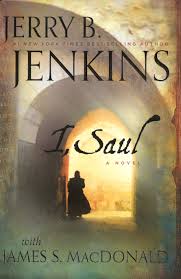 I didn't like biblical fiction. Until I, Saul.
Don't judge me. My disdain began when, years ago, I read a popular series that adapted Christ's story into a modern-day environment. That's not true biblical fiction, but despite its popularity, the poor writing in the series soured me on any novel that put the Bible in fiction form. Since then, I've read only a handful of books in this genre and have avoided many more.
Until I, Saul.
Chapter by chapter, I Saul alternates between present-day thriller and the biblical fiction I was sure I didn't like. Best-selling author Jerry B. Jenkins sets the story of Bible scholar Augustine Knox and his race to save a close friend (and priceless manuscripts from the past) against the story of Saul, living out his final days in a Roman prison.
Both stories captured and held my interest because Jenkins made both ancient and modern characters, settings, and plots so real. I watched Dr. Knox's anxiety mount as he waited for the next phone call or text. I smelled the foul odors of the prison and saw the light from Saul's face illumine his surroundings.
You don't read I, Saul.  You live it——through each excruciating, tension-filled, fast-paced, wondrous word.
I, Saul by Jerry B. Jenkins with James S. MacDonald (Worthy Publishing, 2013) releases today. Buy it. Live it. And look forward, as I am, to the release of the second volume, I, Paul, coming in 2014.
Have you read other books by Jerry B. Jenkins or his coauthor, James S. MacDonald? Have you had positive or negative experiences with biblical fiction? Feel free to join the discussion.
(FTC Disclaimer: I served on the prayer team for this novel and wrote to tell Jerry Jenkins (I've met and spoken with him but don't know him well) how much I enjoyed the two chapters he sent as a thank-you. He responded by mailing me the ARC (Advance Reading Copy) of the book. I was not asked to post a review or a positive response.)
Watch the book trailer for I, Saul.
Find a local Christian bookstore.
Find this book on Amazon, at Barnes & Noble, or at Christian Book Distributors.