Prayer for Those Who Are Fighting Cancer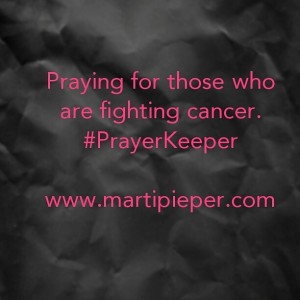 Dear Friends,
2016 has brought its share of good things: meaningful work, fun surprises, sweet family time. But I have noticed, as my prayer list grows, that this still-new year has brought some big burdens.
A husband who has left his wife and children after many years together.
A longtime employee laid off during a time of family illness.
A young mom whose biopsy came back as malignant.
Four young adults and their mother, all diagnosed with the same potentially deadly cancer gene.
A friend in a continuing battle with melanoma.
A teacher taking time off from work to have a lumpectomy and subsequent treatment.
A friend whose breast cancer has returned in a more menacing way.
Another friend in her third horrendous round against ovarian cancer.
And still more situations involving cancer, too numerous to list here.
You see the pattern. And although I can't do research, provide treatment, or bring healing, I can pray.
When I've been in a tough situation, sometimes prayers come slowly—or not at all. So I offer this on behalf of those fighting cancer or who know someone who is. In other words, I'm praying for all of us. I would be honored for you to join your prayers with mine.
Father, today I come to you with a heavy heart. I have nothing but hatred for this disease we call cancer. I don't like the way it steals life, kills health, and destroys relationships. I feel frustrated that finding a cure takes so long. I hate to look at the statistics about cancer recurrence and death.
But I also know your name is Healer. I know you care much more than I do. I know you can bring good even from this most evil disease.
So even though I don't like to see my friends hurt, and even though I don't like the way cancer brings so much suffering along with it, I trust you. I trust you to bring healing. I trust you to surround these pain-ridden ones with your loving presence. I trust you to give them wise counsel and sensitive caregivers. I trust you to give brilliant ideas to researchers along with the funds to make them work.
I trust you, God. I trust you when it gets too close. I trust you to help my friend and her husband make hard but necessary decisions about her treatment. I trust you to lift up another friend as she cares for her children after their cancer surgeries. I trust you to sustain this young mother as she tries to maintain some semblance of normal for her family.
I trust you to lift up those whose lives have taken a sharp cancer detour, whose careers have even been derailed, whose emotions are spinning out of control.
I trust you to provide. I trust you to sustain. I trust you to give strength. I trust you to speak and empower and infuse.
And I trust that you, who knew no sin but did know suffering, will understand. That you in your great and merciful glory will embrace us in our pitiful, awkward, ugly and broken weakness; that you will lift us up in a way that brings life and light and healing and hope. That you will use this cancer as a vehicle for your tender love, your constant care, your incomprehensible grace.
Deliver us from evil, O God, the evil that is cancer. Touch the ones I know and the ones I don't know, the ones diagnosed and the ones who have no clue.
You are God. You are Lord. On this we stand, to you we cling.
All other ground is sinking sand.
In your holy name I pray—AMEN.
If your life has been touched by cancer in any way, feel free to leave a comment here or message me through the contact link above. I maintain a special prayer list of people with cancer, and I will add your request, prayer, or praise (yes, there are praises in this journey) to my list.
For his glory,
Marti