Prayer for Those Who Are Experiencing Aftershocks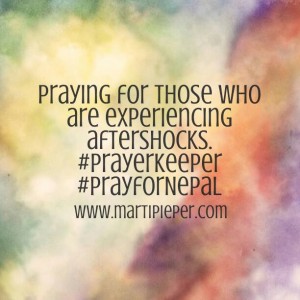 "Dear Loved Ones, I'm still afraid."
That's how my friend's most recent prayer update began. Just over a month has passed since the first of two major earthquakes struck Nepal, where she and her husband minister through an NGO. As they work on their own recovery, they're spending their days serving others in real and fresh ways.
As the mother of an infant, my friend has an extra reason to fear: "I am at all times aware of where our bags are that hold all our family's important documents (and diapers for S, also important). I am aware of where my baby is if he is with another family member. I am aware of the nearest door and quickest route of exit."
In the wake of collapsed buildings (some tipped, others compressed so that one story rests only inches above another), nearly nine million deaths,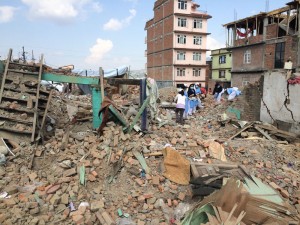 and the continuing need for massive relief efforts, my friend and her husband are still facing aftershocks. These, I've learned, can continue for years after the actual earthquake. My friend and her family also face what she calls "phantom" aftershocks, "the ones you 'feel' but know they are imagined because no one else around you is reacting with you."
Phantom or not, these aftershocks are real. They represent the impact of such a traumatic event. This heartfelt letter reawakened me to the need to pray for Nepal, but it also reminded me that other friends have suffered trauma: Separation. Divorce. Chemotherapy. Radiation treatments. A child's surgery. A spouse's illness and/or death.
So I offer today's prayer for my friends in Nepal as well as anyone experiencing the painful effects of aftershocks. May you learn, as my friend is learning, to rely fully on the God alone who "can bring comfort and peace, and even joy at a time like this." May you rest on His solid rock.
Father, we know you are Lord of all creation, maker of heaven and earth. It is in your mighty name that we come before you today.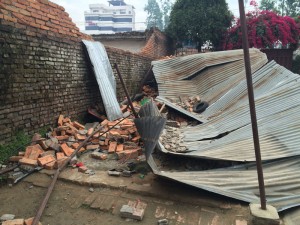 We ask for your mercy, Lord. We mourn the loss of so many, but we pray now for those left behind. May you use this unbidden opportunity to tell them how much they matter to you, to convince them of their purpose in this world. Help them not to experience the lie of survivor guilt but to walk in truth and freedom. As they benefit from compassion and kindness, let them multiply the same to those they encounter.
And the vibrations, Lord? The tremblings and rumblings used by the enemy to draw them back into the scene of destruction? Calm troubled hearts as you calm the earth, our God. Speak your peace over loss and longing as you do over houses and lands.
We weep for your mercy. We beg for your sovereign grace. And we wait in need of your power that will help us stand when so much has fallen. We pray in your name, still seeking your glory, AMEN.
Have you experienced a trauma that has left you in aftershock mode? Feel free to share your request via the email link at the top of the page, on social media, or in the comments below. I'd also love to hear about your prayers for or service to those in Nepal. Thanks as always for reading and for joining the journey.
For His glory,
Marti