PRAY: Prayer for Those Who Plan Before They Pray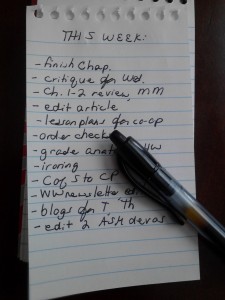 The words stared out at me from the opening of my daily Bible study: "Lord, help me be willing to erase the list I have made for myself today."
Talk about instant conviction. I'm traveling near the end of the week, so I have to compress many of my duties into a shorter time span. Yesterday, I made a long to-do list and proudly completed several items on it.
Every time I remembered my list, I felt satisfied. After all, I was organized. I was on top of things.
And I had failed to remember the things of God.
The items on my list weren't horrible or harmful. But I had scribbled them down without prayer, without conscious thought of eternal rather than temporal values. As I work to reshape my list today, I'm praying. First and last.
Do you tend to plan before you pray? Then I'm praying for you, too.
Lord of all creation, You are above all, over all, in all and through all. I know You care about my daily activities. I know Your Spirit fills me so nothing I do is without You.
But I also know when I've been wrong, when I've failed to consider You or what You say is important. I know when I haven't sought Your kingdom first.
Forgive me, Lord, for taking my own way rather than Yours. And be with others whose proper planning and step-by-step organization can take the place of the gentle whisper of Your Spirit or the not-so-quiet nudge of Your holy Word. Help us listen to You, Lord. Help us walk with You.
You—not work, not family, not pressures, not priorities—are our top priority and highest goal. Help me, help us, demonstrate this by the lives we live before You today and each of the days You graciously give us. In Jesus' name I pray—AMEN.
If you have a particular prayer need or a story that fits with today's PRAY post, feel free to email me or leave a comment below. I'd love to hear your story, and I'd love the privilege of praying for you.
(The winner of last week's gift book, Dear God, He's Home! by Janet Thompson plus one bonus book is my far-flung friend, Angie Attaguile, whose husband lost his job back in June. Angie, I'll message you with options for your other book choice, and I'll keep praying for you and your family in this time of waiting. Congratulations!)