PRAY: Prayer for Those Who Are Stepping into the Unknown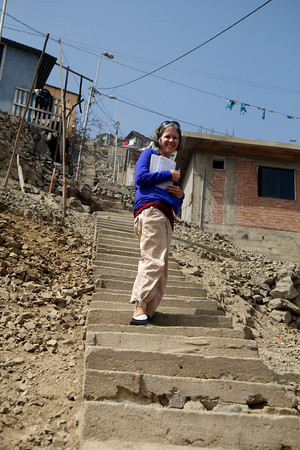 The picture that accompanies this post was taken during my Peru trip this summer. It shows the only route the people who live in this small village on the outskirts of Lima take to get to their homes.
When I started climbing, I realized how little stood between me and a long, dusty, rocky way down. But I made the decision to climb because God had placed the steps in front of me. Several years ago, I told Him I would no longer say "no" to opportunities like that, but step in—or up—to them.
Today, I'm thinking of those who are making similar journeys, many with much more at stake. You are my heroes. Travelers to the unknown, this prayer's for you.
Father God, I thank You for these brave ones who are stepping into the unknown. Some have great power and responsibility, which makes the risk even greater. Some have little power but great courage.
God, we ask that this time of what could be trepidation would become a time of trust. We ask You to use the uncertainty to drive men and women to the One who is certain and sure. We ask for Your power, Your wisdom, Your strength to follow Your lead.
When we walk in faith, Lord, every day and every moment is a step into the unknown. But we thank You that, because You know our names, we do not need to fear. We need not worry. We need not turn back.
God, grant us new levels of faith as You give us new levels of opportunity. Teach us to count the cost as we number our days and to present to You a heart of wisdom, a heart that continues to seek You and Your truth. Let us not become thrill-seekers but God-seekers instead. Thank You for hearing our prayers and for knowing our hearts. In the powerful name of Jesus I pray, AMEN.
Are you stepping into the unknown? Do you know someone who is? Feel free to share a comment or prayer request below or send them the link to this prayer. And thank You for continuing to pray.