PRAY: Prayer for Those Giving Care to a Loved One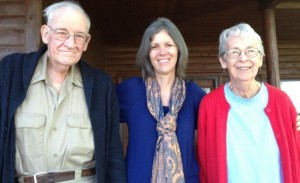 This week marked the anniversary of my father's death on June 10, 2012. I spent that day working and also thinking of the many ways he influenced my life and the person I have become.
But I can't think about my dad without also thinking of my mom and her many years of caregiving. Dad endured a two-plus year battle with oral cancer (and no, he never smoked or used tobacco) that metastasized. Mom transported him to countless medical appointments, waited for him during surgery, drove him five days a week for two different sets of radiation treatments, and managed the special dietary needs that came with the associated swallowing and other problems that developed. The accompanying picture was taken near the end of this difficult season.
But Dad was also a diabetic for more than forty years. He suffered multiple toe amputations and other foot surgeries as well as dealing with neuropathy, glaucoma, and other diabetes-related issues. I know he would not have survived as long as he did without Mom's patient weighing of portions, balancing of carbohydrates, dressing of wounds, and constant adjustments as his needs changed over time.
To be honest, it took a while for me to think of her as a caregiver. To our family, and to Mom herself, she was simply doing what she did: loving my dad and taking care of his needs. And that's what I see so many caregivers doing today. If you're in that category, or you know someone who is, perhaps you'll join in this prayer:
Lord, Today I lift up those giving care to a loved one. I know they are on a journey that may seem without end—or without an end that provides relief. You are not only the great Physician but the One who knows, the One who sees. I praise You for Your choosing and calling of each one who cares for someone they love. I thank You for equipping them for this wonderful, terrible task.
Some of them are taking this journey willingly but sad that it is needed. Others never wanted to begin traveling but felt they had no choice. Some would love to find another road. Some are clinging to both the journey and the one for whom they provide care.
Father God, You see their needs. You know their hurts and joys. Would You reach down today to touch those who care for loved ones? Would You give them a smile when circumstances bring tears? Would You add extra strength to all they extend? Would You rise up within them to give just the right word, just the right touch, just the right encouragement at just the right time?
Our Savior, You modeled caregiving for us when You touched and healed the sick, when You wept over the lost and broken, when You commanded the dead to come forth. May those who care for loved ones live in and through You today so that Your Spirit flows in both giving and receiving. May their poured-out mercy become Your poured-in blessing. In Your holy name I pray, AMEN.