PRAY: A Christmas Prayer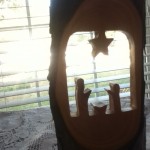 Have you ever looked at an old song in a fresh way?
That happened to me this year during our choir's Christmas presentation. One of our favorite songs was a new arrangement of "Away in a Manger" featuring our children's choir. I r
I realized anew what a beautiful prayer lies in the third verse and prayed it for the congregation and myself each time we sang. 
Today, I'm sharing the verse and my prayer with you. Merry Christmas!
Be near me, Lord Jesus—and with all those who reach out to You during this season of celebration.
I ask Thee to stay—The good news of Christmas: You came, You are coming, and You will come again.
 Close by me forever—for You are Emmanuel, who left it all to give it all that we might draw near.
 And love me, I pray—for You so loved us that You gave. In Your sacrifice, we find hope. In Your presence, we find peace. And in Your example, we find the power to love as You love.
 Bless all the dear children—those many little ones throughout the world who are hurting. Take them in Your arms. Whisper to them of Your love, of Your wonder, of good tidings of great joy.
 In Thy tender care—from the heart of a baby born in a lowly stable, of the One who had no place to rest His head, of the gentle-but-powerful Shepherd.
 And fit us for heaven—the purpose of Your life, death, and resurrection. Keep making us less and You-in-us more.
 To live with Thee there—in that wondrous place where tears never fall and the joy and promise of Christmas never ends.  
Happy Birthday, Jesus! On Your holy night and in Your holy name, I pray—AMEN. 
Do you have a special Christmas prayer request? Feel free to share it in the comments below.  I know I will pray, and others will join us. Christmas Blessings!