No More Chicken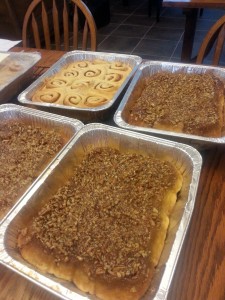 Dear Friends,
Many of you know that last week, I was buried in cinnamon rolls. Well, almost. I baked more than seventy dozen of them as a fundraiser for my daughters' mission trips to Panama and Peru this summer. As college students, they have little extra time to fundraise, so my husband and I are doing what we can to help.
You could say that missions runs in our family. That's why I want to make sure to send you to "No More Chicken," my article in this month's issue of Book Fun Magazine (the link will open to the magazine cover; then just click on my photo or the article title to read. But there's lots of other great stuff there, too!).
If you've served with me a on a mission trip, you'll see some photos and read some stories from places you recognize. I hope you enjoy this behind-the-scenes glimpse. And even if you haven't served with me, you'll have the opportunity to see how God transformed me from a stay-home chicken to a go-anywhere-He-sends missionary.
Have you serve in short- or long-term missions? I'd love to have your comments or prayer requests here or on other social media.
For His glory,
Marti