Catch Us If You CAN Spring Scavenger Hunt: Drawing Winner
Good morning (well, at least when I write this, it's morning)! So many of you participated in the Christian Authors Network Spring Scavenger Hunt that, now that it has officially ended, I wanted to make sure and announce the results of my drawing this morning.  You can still follow the Hunt and read most of the posts, but the time to enter the associated contests has now expired.
How did it work? I entered all the names of those who commented on my Scavenger Hunt post on an Excel spreadsheet. If you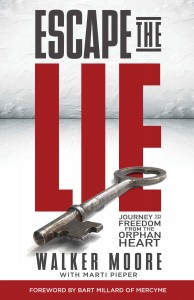 subscribed to my blog, you received two entries, so I put your name down twice. I ended up with 57 entries in all, so I entered those parameters on random.org. The number it chose was 42, which means the lovely Pam D has won a copy of Escape the Lie: Journey to Freedom from the Orphan Heart, my May release with Dr. Walker Moore (you can read more about it at Stop #13 here).
Pam, I will email you for your mailing address and send you a copy when the book becomes available. You'll also win a bonus book (I'll send some choices). Thanks to all who participated, and thank you for joining me here at Read. Write. Pray. Weekend blessings!